CLOAKS ~ CUSTOM ORDER & SHAPE INFORMATION
Immediately available cloaks - See what we currently have ready and waiting to be shipped to you!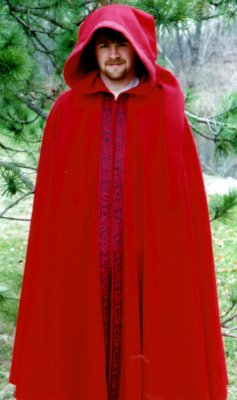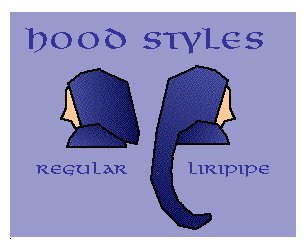 In addition to keeping you warm, cloaks and capes can bring a sense of mystery and drama into your life.
STYLING
Cloaks can be made as full circles (if you were to lay the cloak flat it would form a single complete circle), as ¾ circles, as ½ circles or shaped with shoulder seams. To give some basis for fullness comparison, a 56" long full circle cloak would measure 30 feet around the hem. Similar length ¾ circles measure 270", and our fuller ½ circles measure 200" - 280" and shaped shoulder cloaks will also measure around 200" - 250" around the hem. We can also make a true ½ circle, which won't close at the front.
Unfortunately, ¾ circle cloaks can only be made from fabrics without a nap, which eliminates a lot of fabrics and a lot of types of wool. The heavier wools are coming in with a brushed finish that precludes the true ¾ circle (where you can lay them down and it looks like a flat ¾ circle). For that pattern we have to turn one of the wool sections 90 degrees and the direction change in the nap is apparent. The ¾ style also requires 2 back seams (one asymetric seam ends up looking strange and not hanging as well.) We can only do a ¾ circle with a direction-less fabric.
We have developed a more full version of the ½ circle cloak that works better with napped fabric - it has pleats over the shoulders and a center back seam and closes easily in the front.
We've started making a version of a full circle cloak called a ruana that is shorter over the arms to reduce weight and to allow easier arm movement. It is much easier to drive wearing a ruana than a standard full length cloak.
The basic cloak comes with a full gathered hood, head shaped and big enough to hide in. Cloaks can be constructed with a slightly pointed hood. It tends to look a bit more medieval or elfin. As an alternative to the standard hood, we also offer a liripipe hood, which was common in the 14th century. The liripipe is a thin tube of fabric extending off the back of the hood, about a yard long. It was used as a purse, as a weapon, or as a scarf to keep out the cold.
We can make cloaks with collars as well as hoods. Collars can be simple bands, pointed like a standard collar, or with a curved collar for a colonial replica.
To find the length you will want, decide where you want the bottom of the cloak to fall (we suggest a floor clearance of at least 6"). Then have a friend measure to this point from the base of your neck both straight down your back and measure from the center of your back out over your shoulder to the same distance above the ground. We'll also need a neck measurement to size it properly.

FABRIC
We usually make winter cloaks from wool or PolarFleece (from Malden Mill) because both are warm, durable, and available in a range of colors. The heavy coat-weight wool is usually a melton, a type of felted wool that is soft, very warm, and must be dry-cleaned. We also stock mid and lightweight wools for warmer climates and indoor wear. Click here for our fabric glossary. Polar Fleece can be machine-washed and tumble-dried. The windblocking Polar Fleece cloaks can be made reversible, as the material is finished on both sides. One side will be water-repellent, while the other (usually the inside) is water-absorbent, and is sometimes a contrasting color. We also have heavy weight Windpro polar fleece and some lighter fleeces.
Other fabrics can be used to make cloaks, as long as they aren't stretchy. We often use a washable cotton velvet. We can't do a true ¾ circle using velvet because it has a pronounced nap - it is a directional fabric and a ¾ circle involves turning one piece of the fabric relative to the others. We can only do a ¾ circle with a direction-less fabric. We use a more full version of the ½ circle that has pleats over the shoulders, a center back seam and closes over the front. Summer weight cloaks can be made from wide cotton, rayon, linen, or polyester-blend fabric. We've also used specialty fabrics such as water-resistant polyester micro-fiber, and wool/cotton/polyurethane or vinyl raincoat fabric. Full circle cloaks require material that is at least 6" wider than the desired back length, generally 50 to 60 inches. Cloaks with longer lengths, over 54", may be constructed using an additional length of fabric, and the additional labor and fabric will increase the cost of the cloak by 30 to 50%.
LINING
Our cloaks are normally lined only in the hood. For hood linings, we use cotton velvet, silk/rayon, or acetate/rayon velvet, crushed velvet, and occasionally cottons or other interesting fabrics. These fabrics tend to slip less than shiny materials like satins, and help the hood stay on your head. If the body is lined at all, it is partial, either lined over the shoulders for those with wool allergies, or faced with an interesting fabric along the inside of the front, usually matching the hood. We will not completely line full length full circle cloaks.
Full circle cloaks are normally left unlined in the body, but lined in the hood area, partially to improve wearability, and partially due to weight and cost considerations. A full circle cloak does not have shaped shoulders, so the only thing holding it in place is friction. If it is lined with something shiny, the full circle cloak will slide around, and may drag on your neck. We do sometimes line shaped shoulder cloaks, since those are fitted to the shoulders and will stay in place better, but we still discourage a really shiny lining because some slippage will make the cloak difficult to wear during any activity.
A lining made from a fabric different than the cloak will also stretch at a different rate than the outer fabric (generally faster for most linings), which means the only sure way of having the lining not show is to make the lining shorter and unattached to allow room for stretching. Many long coats are lined in this manner. A full lining layer can increase the weight significantly too - rather than a 7 to 10 lb. cloak, you may have a 14 to 20 lb. cloak.
Last but not least, the two layers could generate static electricity in dry winter climates as they slide back and forth.
Colors and Costs
We try to stock reasonably priced wools and other fabrics, buying directly from the mill when possible. We've got a large number of colors, textures, and weights in stock, as well as other fabrics like cotton velvet and fleece. Please email or call if you have a question about what is available.
The cost of our cloaks varies with the cost of the fabric and details. As an example, a full circle cloak with a 56" back length requires 7 yards of 60-inch wool: if we use $10 per yard fabric, the cloak will cost around $169 plus the cost of the clasp. Because ½ circle capes require less fabric, they cost somewhat less. Child size half-circle capes can start as low as $49 . Please check the currently available list of items all made up and ready to ship for price examples.
We try to keep heavy black wool in stock, but this is becoming more and more difficult. We also try to keep a number of shades of green available, from hunter/forest through olive, as well as greys, blues, reds, browns, and purples.
We usually have some WindPro and Windbloc Polar Fleece in stock, but the colors we have available will vary. Please call for currently available colors.
If we have to search for a specific color that we don't normally have in stock, the price increases by the amount of the added fabric cost. For specific colors, we gladly accept color samples (fabric, paint, crayon, whatever).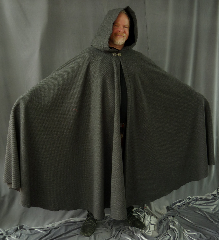 Arm Slits
Arm slits are not necessary on full circle cloaks - the cloak is so full that you can bring your arms out beneath the hem and it will stay closed. Most folk don't find that they need slits on ¾ circles, but they may make close-fitting ½ circle or shaped shoulder cloaks more wearable. They will also let in the cold when not in use. We will add arm slits if requested, please call for an estimate.

Details
Details can increase the cost of your cloak, but they also personalize it. Because every cloak is hand-made, personal details give you a special, one-of-a-kind garment. The most common accents are:
Cloak clasps are priced as a separate option due to the wide range of possibilities available. Our usual cloak closure is a small metal clasp. Other options include larger, more ornate metal clasps, pennanular pins, and loop and button combinations with either metal or wooden buttons. Please note that completely reversible double-layer cloaks need to have loop and button closures for a closure to be accessible from both sides.
Cloaks can be trimmed - just tell us what you'd like - ribbon, gilt, embroidered trim, or fur. (We prefer working with fake fur.) We can also applique crests, shields, coat-of-arms or other designs.
Applique
Cloaks can also be appliqued. For examples, see our Knights page in the Gallery section
Site Index